Back to: CULTURAL AND CREATIVE ARTS JSS3
Welcome to class! 
In today's class, we will be talking about modern/contemporary Nigerian artists. Enjoy the class!
Modern/Contemporary Nigerian Artists
Aina Onabolu was born in 1882 in Ijebu-Ode, Ogun state. He was a painter/art educator. He is the foremost pioneer of modern and contemporary Nigerian art. A seasoned painter and art educator who taught in many secondary schools in Nigeria on his return from studies abroad.
Chief Onabolu was the first Nigerian to teach art in Nigerian school and was instrumental to the addition of art into the formal school curriculum in secondary and tertiary institutions. He was honoured with the then National award of Order of British Empire in 1956. He died in 1963.
He was born in 1916. He hailed from Ohafia, Abia state. He was a reputable artist that had to his credit, several textbook illustrations for Longman Publishers. He was also known for his creative works and calendar designs. He also designed for social welfare and the environment for the Federal Ministry of Information around 1952-1954.  He was a graphic /painter/ illustrator.
He was born in 1921 in Onitsha, Anambra. He was a renowned sculptor and art educator. He got his early art foundation from an expatriate art teacher, Kenneth Murray during his secondary school education.  He was known for his sculptural works of bronze and wood. He took part in several exhibitions in Nigeria and overseas.
He rose tp the level of Professor of arts at the University of Ife, now Obafemi Awolowo University. He was also selected for national service as Adviser to the Federal government on art matters and consulted for the 2nd world black and African Festival of Arts and Culture.  He died in 1994.
She was born in 1930 in Calabar, Cross-River State. She is in the contemporary of the foremost female professional painters. She is an art collector, art promoter and fashion/costume designer. She contributed immensely to the development of art and tourism in Nigeria through setting up and managing an art gallery in Lagos, called Bronze Gallery. It was later moved to Calabar.
She produced and presented a TV programme on NTA station titled 'cultural heritage' where she showcased young contemporary artists and their works.  She stood out with her style of painting with warm, bright colours of impressionist bold broad strokes.
He was born in 1934 in Lagos state. He is a renowned painter with a bold and expressively unique style in his fusion of traditional African forms and values with the western techniques of art. He is a master moral and mosaic artist with several works to his credit.  He taught art at the Yaba College of Technology. His use of geometric forms and lines help defined his art style.
He was born in 1932, in Delta state. He is a renowned painter who gained international prominence through his unique printmaking style of art production which was rich in vast techniques. He has rendered great service to the art community by giving art formation to students in the secondary school stage in the school he taught like St. Gregory's College, Lagos, Ondo High school and Western boys High school, Benin. Through the experimental nature of the workshop, it has led to new styles of work techniques for many artists through idea sharing and research mechanism available to participating artist.
He was born in 1933. He was born in Kafancha, Kaduna State but hailed from Anambra State. He was a painter/graphics/sculptor/art educator. He is known for his interest in African cultural and traditional forms of values which are seen and reflected in his works. Its interpretation of traditional Igbo folklore through costume design, stage set and writing of drama projected him into the African art space as he won the all African drama competition prize with this works.
He lectured at the University of Nigeria, Nsukka where he rose to the position of Dean, Faculty of Arts. He died in 2016.
He was born in 1934 in Kaduna state but hailed from Imo state. He was a graphic/art educator. He was the pioneer Fine Art teacher at St. Augustine's Secondary School, Bazau, then in the Sardauna province in 1963.  He also committed his service to the teaching of art in other secondary schools in Enugu state and the then Gongola state now Adamawa state.
He recommitted himself in the training of contemporary art students as he took up lecturing in the Alvan Ikoku College of Education, Owerri where he rose to the office of the head of the department, Fine and Applied art. Through this service, he established and promoted art in the state through elegant sculptural works that were installed strategically at prime locations and roundabouts.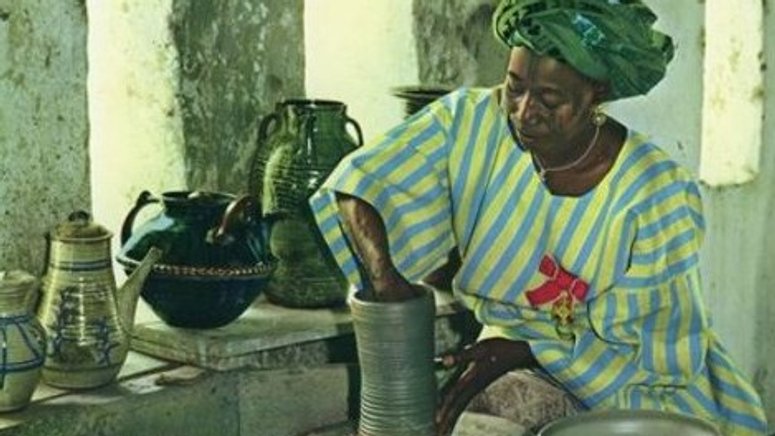 She was born in 1924 in Niger state she was a ceramist. Her love for the art of pottery coupled with her rare skill in the production process and her creative energy earned her great reputation in the art space of Nigeria and beyond. Herr total commitment and creative consistency defined her priceless contribution to the growth of art in Nigeria. These earned her an honorary doctorate from the Ahmadu Bello University, Zaria.
Her contribution to the growth of art and tourism gained her an immortal status as she has been honoured and immortalized by the government and corporate body by putting her image on the Nigeria twenty- naira currency making her the first and so far be the only woman to appear in Nigeria currency. The federal government also honoured Dr Kwali with a national award of excellence, an officer of the order of the Niger (OON) for her contributions to the growth of art and tourism. She died in 1984.
He was born in 1931. He hailed from Edo state. He was a reputable Nigerian contemporary sculptor with vast mastery in a variety of media, like clay, cement, wood, metal and bronze casting. After his secondary school education, he left for formal art education to the school of graphic art, in London (1956) and the Camberwell school of arts and crafts also in London (1960).
He was selected to represent Nigeria at the commonwealth festival in Glasgow, Scotland. Mr Osawe also committed to the service of training new generations of artists in the University of Benin. He died in 2007 at the age of 76
He was born in 1948 Ikorodu, Lagos state is a vast, vibrant and exploratory painting who reinvents himself in new styles and materials of creating his paintings. He was instrumental in building the secondary art foundations for students that pass through him at the king's college, Lagos before taking up service at Yaba college of technology where he rose to the position of Director, school of art and printing and later deputy rector of the college.
He was born in Ikere Ekiti, Ekiti state. He is a painter/ illustrator/ art critic. He is an outstanding bold and impressionist painter who gained popularity and dominance in the art space through his very illustrative daily and weekly cartoons on Daily Times of Nigeria where he worked and rose to the position of Art Editor.
He invested his service at the Cultural Studies Department of Lagos in research and study. Participated in several exhibitions in solo and group exhibitions.
He was born in 1947. He hailed from Kano state. He was a Graphic/ Print and Stained- Glass artist. He is an internationally reputed artist as an experimentalist. He is vast in scope and has a good mastery of a variety of art media, ranging from beadwork, etching, stain glass and mosaic.
He worked as the advertising manager of City Group Africa Limited, then later moved to Akrai Advertising Limited where he worked as an Art Director. He has held several solo exhibitions and also participated in group shows.
He was born in 1925; he hailed from Osun state. He was a sculptor. Lamidi Fakeye is a domestic and intentionally renowned sculptor with vast proficiency in wood carving, a contemporary Nigerian artist who gained prominence through dutiful hard-work and creative disposition.
His career started first with informal training from his father, who was a traditional woodcarver at a tender age. He further polished his skills through the encouragement of Rev. Father Carrol of the Catholic Mission, who allowed him to be exposed to contemporary principles of wood carving at the catholic mission experimental art workshop.
He later travelled for studies to Cite Universite de Besacon and Ecole des beaux-arts in Paris, under the French government scholarship. He became vast in media, as he also gained proficiency in stone carving and cement sculpture. He is referred to as the contemporary master of wood carving; he has held solo exhibitions both locally and abroad.
He was born in 1961 in Zaria, Kaduna State but hailed from Delta State. He is a painter/art educator. He is reputable in the contemporary art space are the most expressive water colourist in Nigeria. His efforts on the area of watercolour and chalk pastel in the 1980s popularized both materials as acceptable paintings in Nigeria.
He was honoured with several academic and national prize, which included the first prize winner of the mobile producing national painting competition. He was committed to his service as a lecturer and was instrumental to the training of young artists in Auchi polytechnic from 1985 to 1993. He is a deep and philosophical artist with a passion for artistic research and experimentation.
He was born in 1978 in Ekiti state but hailed from Ondo state. He was a sculptor. He is a contemporary Nigerian artist whose speciality is a sculpture. He is vast in his use of materials and continues to experiment with different more materials to interpret his creative concepts.
He works more with metal, which involves welding, casting and fabrication. An experience he has put efficiently, into his creative exploration in the carnival world, where he has proved his mastery of the techniques of float designing and construction. He has also exhibited at the American Alliance of Museum Annual Meeting and Museum Expo, Walter E Washington Convention Center, Washington DC, United States.
In our next class, we will be talking more about The Art of Festivals in Nigeria.  We hope you enjoyed the class.
Should you have any further question, feel free to ask in the comment section below and trust us to respond as soon as possible.
Everybody SCREAM💃 ClassNotes evolving to Afrilearn! Get ready for a world-class learning experience🎊